Religious Education Curriculum
At our school, we use the 'Come and See' Religious Education programme from EYFS to Year 6. It is based on the theological foundations of the Second Vatican Council, the Catholic Catechism and the revised RE Curriculum Directory.
Further information about our RSE programme can be found on the curriculum area of the website or by clicking here.
The Bishops of England and Wales said, 'Religious Education is about engaging with deepest questions of life and finding reasons for the hope which is within them' (Religious Education in a Catholic School, 2000)
Our learning in Religious Education is directed through the use of key questions with the aim that our curriculum is more imaginative and challenging. A key question should also be relevant to the children's interests and concerns.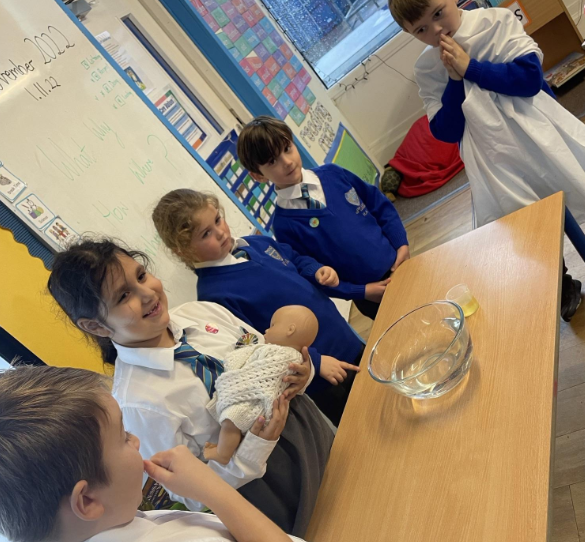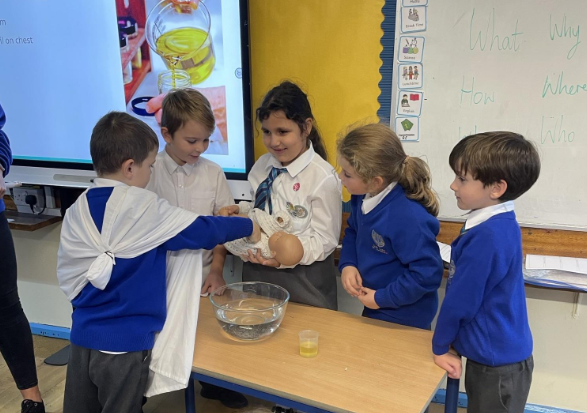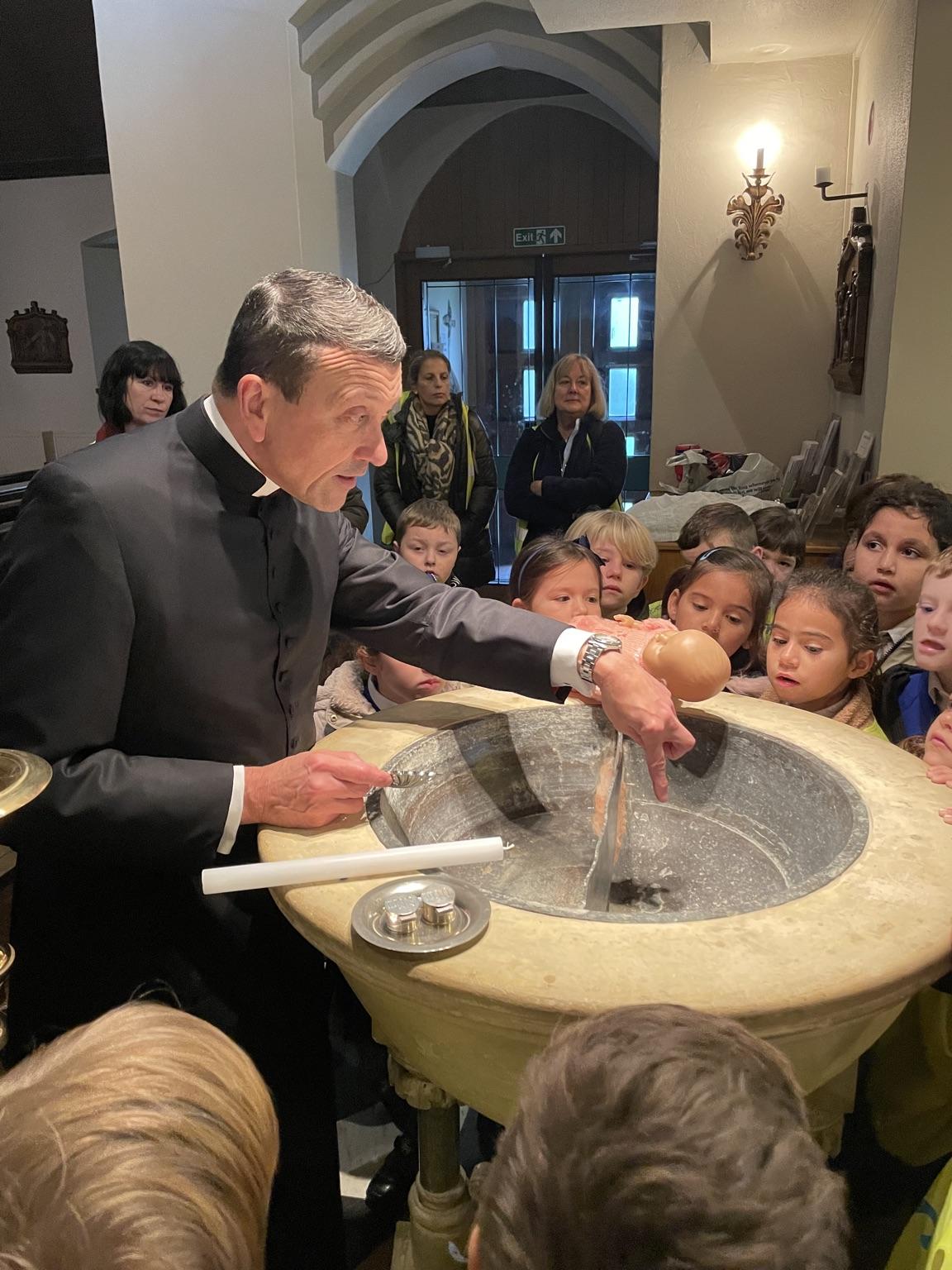 As such, every topic starts and ends with answering the Big Question, allowing children to delve into the question, reflect upon their learning, and most importantly, make links between areas of learning.
'Come and See' provides:
Opportunities for celebration, prayer and reflection.
Children with the language of religious experience.
Opportunities to explore and develop religious stories and events.
Appropriate materials about other faiths.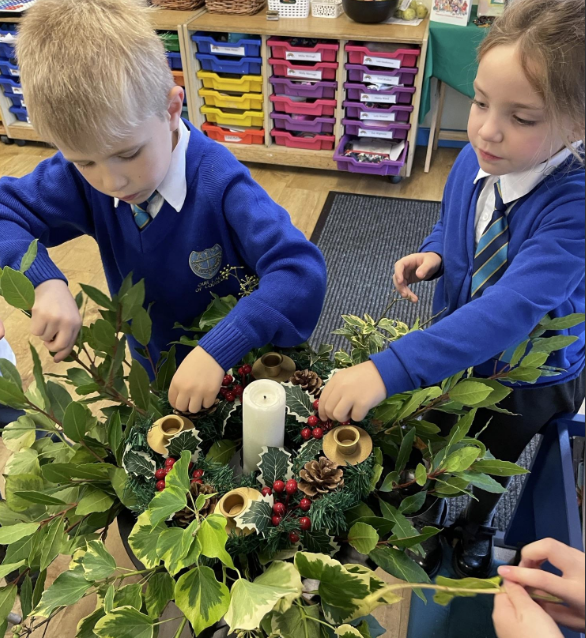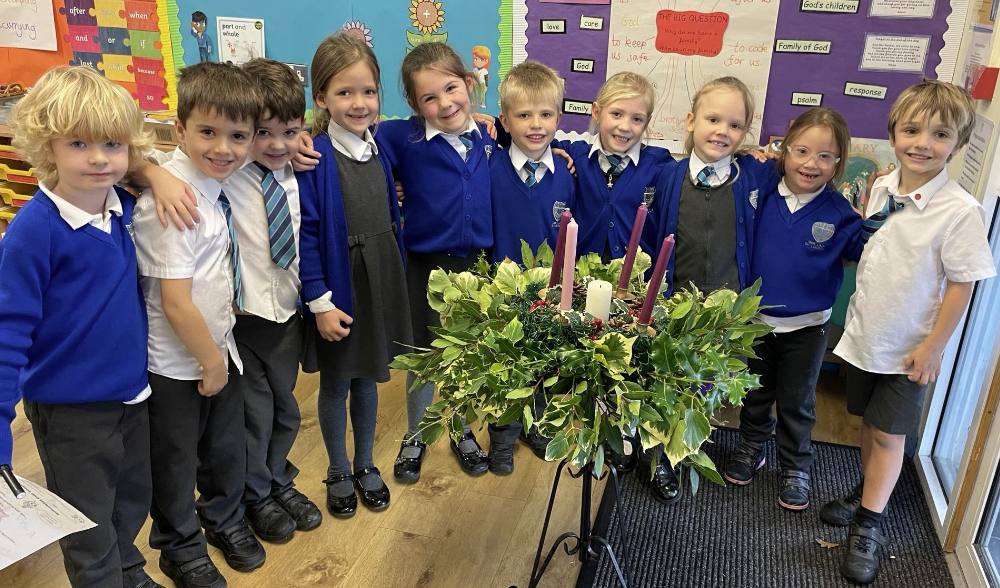 Overview of Content:
The process for delivering the topics in 'Come and See' has three stages – Explore, Reveal and Respond which enables the pupils with the development of knowledge, understanding, skills and the fostering of attitudes. The nine topics are subdivided as follows:
Autumn Term
Topic
EYFS (Nursery/ Reception)
Year 1
Year 2
Domestic Church - Family

Myself

I am loved and important to God: being part of God's family

Families

Just like in a family, God loves and cares for us, and we can trust him

Beginnings

God's presence in every beginning: God made us and loves us.

Baptism - Belonging

Welcome

Baptism as a welcome into the church family.

Belonging

Symbols and prayers within the sacrament of Baptism

Signs and symbols

Signs and symbols within the sacrament of baptism

Advent/Christmas - Loving

Birthday

When we celebrate Christmas, we are celebrating Jesus' birth

Waiting

Some aspects of the liturgical season of Advent: a time of waiting to celebrate Jesus' coming at Christmas.

Preparing

Advent, four weeks of preparation for the celebration of Jesus at Christmas.

Other religion

Judaism

Hannukkah

Judaism

Abraham and Moses

Judaism

Shabbat
Topic
Year 3
Year 4
Year 5
Year 6
Domestic Church - Family

Homes

God's vision for every family

People

The family of God in Scripture

Ourselves

Created in the image and likeness of God

Loving -

God who never stops loving

Baptism - Belonging
Promises - Promises made at Baptism
Called- Confirmation: a call to witness

Life choices-

Marriage, commitment and service

Vocation and Commitment -

The vocation of priesthood and religious life

Advent/Christmas - Loving

Visitors -

waiting for the coming of Jesus

Gift -

God's gift of love and friendship in Jesus

Hope -

waiting in the joyful hope for Jesus, the promised one

Expectations - Jesus born to show God to the world

Other religion - Judaism

Synagogue

Torah

Passover

Rosh Hashanah, Yom Kippur
Spring Term
Topic
EYFS (Nursery and Reception)
Year 1
Year 2
Local Church

Celebrating -

People celebrate in Church

Special People-

People in the parish family

Books-

The books used in Church - Old and New Testament

Eucharist

Gathering -

Parish family gathers to celebrate Eucharist

Meals

Mass, Jesus' special meal

Thanksgiving

Mass, a special time to thank God

Lent/Easter

Growing

Looking forward to Easter

Change

Lent: a time for change

Opportunities

Lent: an opportunity to start anew

Other faith - Islam
Prayer mats
Muhammad
Prayer at home
Topic
Year 3
Year 4
Year 5
Year 6
Local Church

Journey -

Christian family's journey with Christ

Community -

Life in the local Christian community and ministries in the parish

Mission-

Continuing Jesus' mission in diocese (ecumenism)

Sources -

The Bible, the special book for the Church

Eucharist

Listening & Sharing

Jesus gives himself to us
Giving and receiving- Living in communion
Memorial sacrifice- Eucharist as the living memorial of Christ's sacrifice

Unity -

Eucharist enabling people to live in communion

Lent/Easter

Giving all -

Lent: remembering Jesus' total giving

Self discipline- Celebrating growth to new life

Sacrifice -

Lent: a time of aligning with the sacrifice made by Jesus

Death & new life

- Celebrating Jesus' death and resurrection
Other religion - Islam

The Mosque

Qur'an
Ramadan and Pilgrimage
Guidance for Muslims
Summer term
Topic
EYFS (Nursery and Reception
Year 1
Year 2
Pentecost

GOOD NEWS -

Passing on the Good News of Jesus

Holidays and Holydays -

Pentecost: feast of the Holy Spirit

Spread the word - Pentecost: a time to spread the Good News
Reconciliation/Anointing of the sick

Friends-

Friends of Jesus

Being Sorry-

God helps us choose well

Rules-

Reasons for rules in the Christian family

Universal Church

Our World-

God's wonderful world

Treasures-

God's treasure; the world

Neighbours - Neighbours share God's world
| Topic | Year 3 | Year 4 | Year 5 | Year 6 |
| --- | --- | --- | --- | --- |
| Pentecost | ENERGY - Gifts of the Holy Spirit | NEW LIFE - To hear and live the Easter message | TRANSFORMATION - Celebration of the Spirit's transforming power | WITNESSES - The Holy Spirit enables people to become witnesses |
| Reconciliation/Anointing of the sick | CHOICES - Importance of examination of conscience | BUILDING BRIDGES - Admitting wrong, being reconciled with God and each other | FREEDOM & RESPONSIBILITY Commandments enable Christians to be free & responsible | HEALING - Sacrament of the Sick |
| Universal Church | SPECIAL PLACES - Holy places for Jesus and the Christian community | GOD'S PEOPLE - Different saints show people what God is like | STEWARDSHIP - The Church is called to the stewardship of Creation | COMMON GOOD - Work of the worldwide Christian family |